Opening remarks from Ben
GREAT ATTENDANCE and GREAT NEW PROGRAMS
When playing digitals music files, high quality vs low quality. compression on the archive can mess with low quality sound, ask for help—even ben needs it sometimes
Don't step on automated shows toes! Please refer to the clock for end and start times
Do not start early or go late  – or you may face disciplinary action.
Dig deep!  Review mission -Talk about the importance of playing music not heard elsewhere. Big chart tunes are not encouraged unless they are over 40 years old and thus absent from commercial airwaves. Be careful when playing household name artists.
"WESU supports a wide variety of music genres and styles of programming and is dedicated to exposing the listening audience to material generally absent from the airwaves. Our mission is to provide listeners with educational entertainment, coverage of local affairs and an eclectic mix of commercial-free music from within the community and around the globe."
(MB) Spring Pledge drive will start in April – $15 K goal
-Spring Dive will be similar to recent efforts
-on air pitches,  old school pledge forms, and social networking as main force.
-Working new 75 year premiums and promotional material.
-We really need everyone to participate.
-More  to come at April Meeting
(BS) Personnel staff contact sheet ok by staff to share?
email personnel@wesufm.org with question
(HR)  Program
Spring break programming (schedule stays the same except for student shows)
-Posting a signup sheet – if you can't do your show please check with adjacent DJs for coverage.
-Service hours given to those who prerecord a show to play in case of no coverage.
-Email personnel@wesufm.org or program@wesufm.org  for contact help
–REMINDER  Please keep Program Director in the loop for all substitution arrangements or changes in program big or small. program@wesufm.org
(Izzy ) EVENTS:
Record Fair – Sunday March 30th  – volunteers needed – before during and after.
– Looking for people to DJ during day of event too. Contact.  IZZY events@wesufm.org
– Vendor space still available – contact LB lberman@wesufm.org
– More to come re 75th anniversary
(Hanna) Production – We need new show promos in general plus we need 75th anniversary and spring pledge promos.  Service hours given! Holler at Production@wesufm.org
Celebrating 75 years of alternative music, public affairs and community service
(BS) Training – need help? Training leaders? Trainees will be seeking shows to intern on – armed with new check lists….!
(KC) Public Affairs – New Show Synopsis google form for public file, email publicaffairs@wesufm.org so katherine can build a list, so the FCC can check up on us!
————————————————————————————————————
(Ben) 75th anniversary updates
"75 years of" radio show really needs your input.  Otherwise it will not work.
-Just looking for submissions! and we need your contributions
-April (poetry),  May (Wes related), June (African American Artists) lists are as diverse as can be.  Links at www.wesufm.org
Welcome Back  – 2 episodes so far… Arch Doty and Laurenellen McCann links at WESUfm.org and Facebook.
(Mary)  "We really need some 75th anniversary promos."
– Service hours given.
-Board has just created a batch too inspire y'all
-Please include brand "75 years of alternative music and public affairs".
-VT is working on smart graphics for new merchandise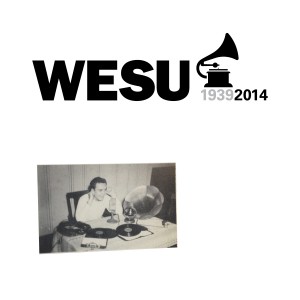 (BM) Oldies concert – April 19th. Details on this coming soon.
Other events in the works, we are trying to bring Death, Roots of Hip Hop Summit, a Reggae Festival,  and Gorilla Radio to WESU.
Still lots of other events we are working on. Thanks to those who have provided input so far.
Cocktail event at CHC, Fall BBQ pig and veggie roast bash with bands as well as some other music and food events.
——————————————————————————————————————
Community Announcements:  before we go over the Fall/winter pledge drive incentive report
From Christopher Pollack – the Wesleyan/Middletown Relations committee meets Sundays at 5pm at Wesleyan's Community House. Is there a board member of staff person who'd like to attend.
Contact:  Christopher Polack topher@thediversion.com
Other announcements?
(Ben) goes over the pledge incentive report before we break then regroup for 75th anniversary meeting