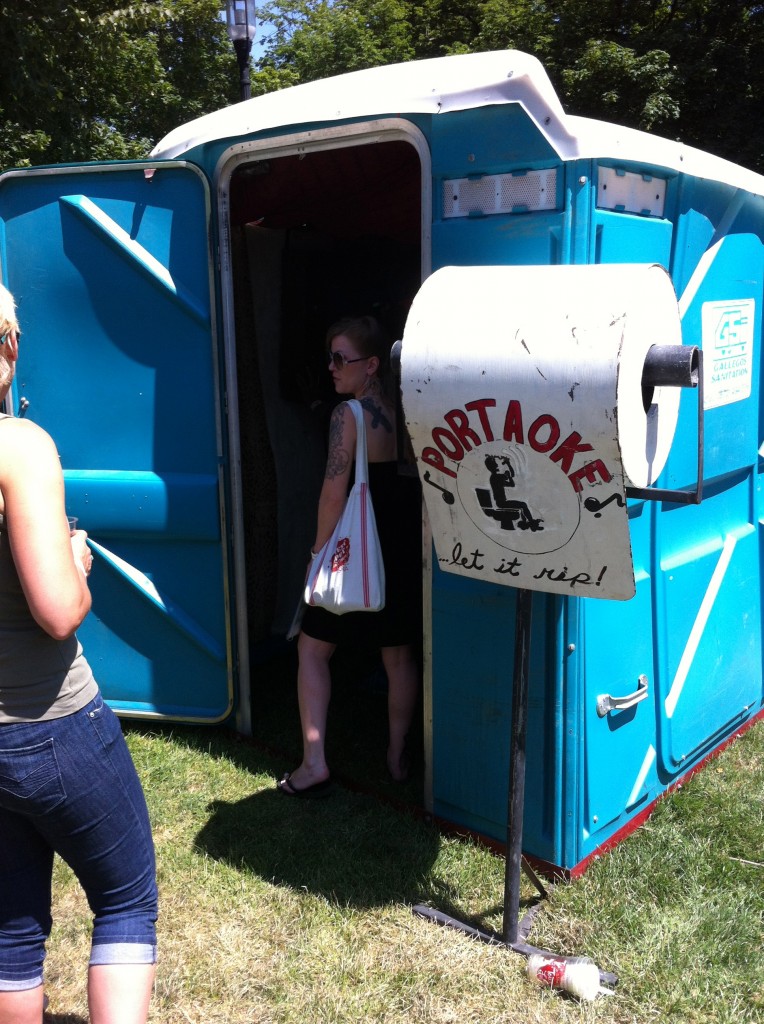 It's the middle of July and that means it's time to bust out the Ray-Bans, grab the picnic blanket, put on your cut-off shorts, lather up in sunscreen and then run around the city holding the picnic blanket as a cape and shouting, "I am BAN-RAY! Here to save the day! Where hast the evil DENIM THIEF gone, and what did he do with the leg-sleeves of my blue jeans?!? Fear my radioactive-proof skin!"
Or, ya know, you could chill at a music festival. Here are a couple picks from throughout the US of A in the next couple months:
Chicago, IL • July 19-21
Say what you will about Pitchfork as a publication that doesn't even get what Childish Gambino's about man, they sure do know how to put together a surprising lineup. Seeing Belle & Sebastian's names next to R. Kelly is enough to leave you wondering which moments of high school you're most nostalgic for: burning CDs for sweethearts or awkwardly grinding on strangers. There are plenty of WESU favorites here: Autre Ne Veut, Foxygen, Chairlift, Toro Y Moi, and Lil B have all been featured in our charts or elsewhere on our Music Director's Blog. Lil B might just retweet you. I'm also gonna recommend checking out Killer Mike, Mac DeMarco, and Swans to round out your festival weekend with some "Hard-Core G Shit," some goofball rock, and peculiar epic-ness. This fest should be a whole slew of radically different parties happening at the same time, as long as Pitchfork fans manage to take off their cool jackets for a minute and enjoy themselves—something they're notorious for avoiding.
Bridgeport, CT • July 25-28
Right here in our backyard, you'll find one of the chillest festivals around. If the name "Gathering of the Vibes" didn't tip you off to this show's hippy cred maybe the lineup's massive "TWO LEGENDARY NIGHTS OF PHIL LESH & FRIENDS" top bill should make it clear that GotV is the place to let your inner Deadhead loose. While this festival embraces the jam as an art form it's also open-minded about the wide variety of grooves and jams available in this day and age: The Roots never fail to get a crowd bouncing with their Philly hip-hop jamz, The Tedeschi Trucks Band should rep the southern rock jam with pride, The Funky Meters will bring classic funk jams, and Fishbone will likely whip out a ska jam or two. Who's bringing the peanut butter?  Also, if you want to feel old, no matter how young you are, check out the School of Rock All-Stars, a group of 7-18 year old rock stars shredding through classic rock hits. Also, I'm having a hard time figuring out who will be at this festival and also want to see James Murphy of LCD Soundsystem and Rob Garza of Thievery Corporation DJ a "Late-Night Rager," but that will be happening, so cool beans.
Continue after the JUMP FOR FESTS in Philadelphia, Boston, San Francisco, and NÜ York
Philadelphia, PA/Everywhere • July 27/July 19-September 15
While the Mad Decent Block Party has evolved into a nation-wide tour, it's been a Philly party at its core since Diplo applied for a city permit for his first free electronic music rager in 2008. Mad Decent has taken a lead role in how parties shake in the 21st century, and the Block Party is the epicenter. Diplo returns with his famed dancehall project, Major Lazer. Fans of James Franco's performance in Spring Breakers should check out his alleged inspiration, RiFF RAFF. Also, between electronic stars Flosstradamus, Dillon Francis, and DJ Sega, there will be many drops to beat had.
San Francisco, CA • August 9-11
Every year, Another Planet Entertainment manages to fill Golden Gate Park with music to make your uncle, your little sister, and your inner music fan equally excited. Paul McCartney, Hall & Oates, and Willie Nelson might make this festival seem unfriendly to non-dads, but the cool kids will also find plenty to love here too. Youth Lagoon left behind an awe-inspired crowd in the wake of every one of their performances at SXSW earlier this year. Surfer Blood, Smith Westerns, and Wavves are sure to inspire head-banging and mosh pits. Meanwhile, the bros and the bitties will find plenty to rage about, including Kaskade, Pretty Lights, and Baauer. In some ways, its not even fair for me to be writing about this festival, since some of my favorite concerts of all-time have been from acts on this bill: Grizzly Bear, D'Angelo, D'ANGELO, The National, and Phoenix all seriously know how to make music on a stage. On top of all that, the festival doubles as a celebration of the SF Bay Area, with an emphasis on local food, beer, and wine. (FULL DISCLOSURE: I am from the Bay Area and, like most Bay natives, obsessed with the place.) I would caution any fans to bring layers and blankets to Golden Gate Park. The San Francisco fog doesn't relent just so you can give in to your guilty pleasure watching the Red Hot Chili Peppers.
Brooklyn, NY • August 31 – September 1
Captured Tracks has spent the last five years proving that old-fashioned record labels can still matter, as long as the music you put out is actually worth listening to. This festival is sure to be a raucous celebration of the underdog artists that the label has helped turn into success stories time after time. DIIV, Beach Fossils, Mac DeMarco, Wild Nothing, and Widowspeak have all played memorable shows at Wesleyan University in the last few years, and have enjoyed generous play on WESU. What intrigues me most about this festival is the prospect of seeing the community behind Captured Tracks irreverent rock and shoegazey glistens all in a room together, performing for each other. It will also be a great place to spot potential next big things Chris Cohen and Alex Calder. Beer tastes better when it's celebrating a 21st century indie success story.
Boston, MA • September 7-8
Boston's been sorely lacking in a viable music festival for some time, but that changed in May when the National, the Shins, Matt & Kim and others were greeted with an enthusiastic music-loving crowd. The festival's back with an encore performance with more of today's top Urban Outfitters rock stars including Vampire Weekend, Passion Pit, and Kendrick Lamar. There's not too much in the way of wildly original picks on this lineup, and if you've been to any other music festival this summer, the chances are that there will be a number of bands you've already seen here, but if you live in Boston and you're not much of the travelling type, then this could be the festival for you. Don't miss Okkervil River who have written some really thoughtful and sophisticated country-rock songs that they perform with a punch. Also, Bat For Lashes has the uncanny ability to warm your heart and spook you out at the same time.
Mickey Capper produces Crowd Noise, live music and exclusive interviews every Sunday night from 12:30 -1:30 am only on WESU Middletown 88.1fm