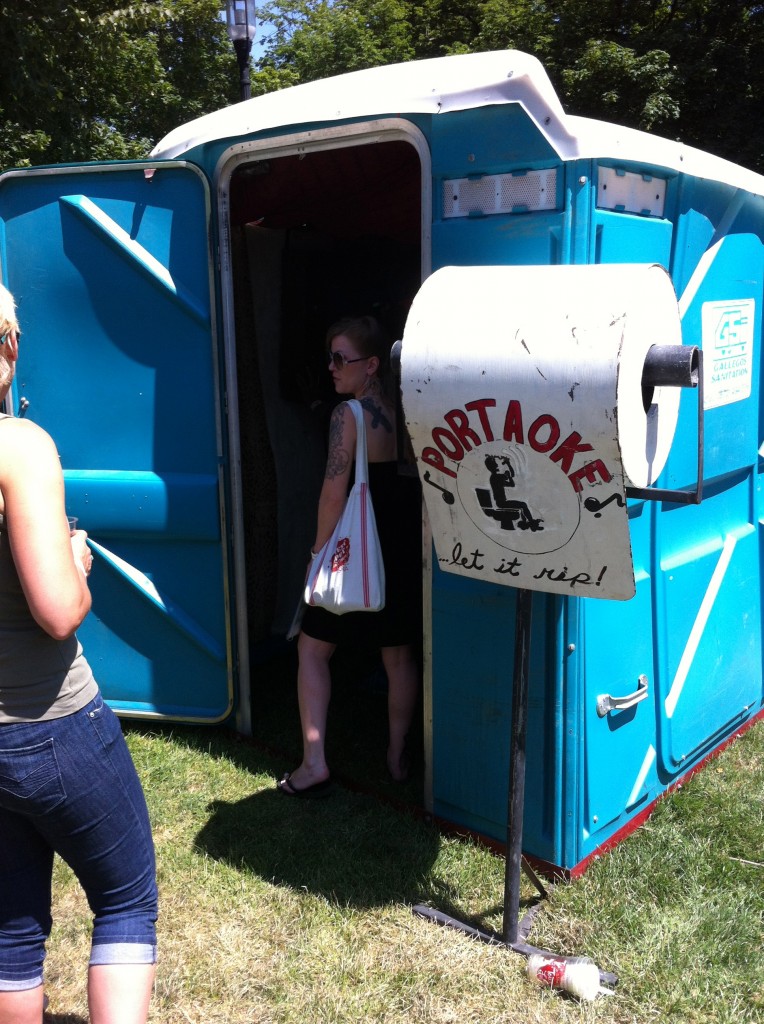 It's the middle of July and that means it's time to bust out the Ray-Bans, grab the picnic blanket, put on your cut-off shorts, lather up in sunscreen and then run around the city holding the picnic blanket as a cape and shouting, "I am BAN-RAY! Here to save the day! Where hast the evil DENIM THIEF gone, and what did he do with the leg-sleeves of my blue jeans?!? Fear my radioactive-proof skin!"
Or, ya know, you could chill at a music festival. Here are a couple picks from throughout the US of A in the next couple months:
Chicago, IL • July 19-21
Say what you will about Pitchfork as a publication that doesn't even get what Childish Gambino's about man, they sure do know how to put together a surprising lineup. Seeing Belle & Sebastian's names next to R. Kelly is enough to leave you wondering which moments of high school you're most nostalgic for: burning CDs for sweethearts or awkwardly grinding on strangers. There are plenty of WESU favorites here: Autre Ne Veut, Foxygen, Chairlift, Toro Y Moi, and Lil B have all been featured in our charts or elsewhere on our Music Director's Blog. Lil B might just retweet you. I'm also gonna recommend checking out Killer Mike, Mac DeMarco, and Swans to round out your festival weekend with some "Hard-Core G Shit," some goofball rock, and peculiar epic-ness. This fest should be a whole slew of radically different parties happening at the same time, as long as Pitchfork fans manage to take off their cool jackets for a minute and enjoy themselves—something they're notorious for avoiding.
Bridgeport, CT • July 25-28
Right here in our backyard, you'll find one of the chillest festivals around. If the name "Gathering of the Vibes" didn't tip you off to this show's hippy cred maybe the lineup's massive "TWO LEGENDARY NIGHTS OF PHIL LESH & FRIENDS" top bill should make it clear that GotV is the place to let your inner Deadhead loose. While this festival embraces the jam as an art form it's also open-minded about the wide variety of grooves and jams available in this day and age: The Roots never fail to get a crowd bouncing with their Philly hip-hop jamz, The Tedeschi Trucks Band should rep the southern rock jam with pride, The Funky Meters will bring classic funk jams, and Fishbone will likely whip out a ska jam or two. Who's bringing the peanut butter?  Also, if you want to feel old, no matter how young you are, check out the School of Rock All-Stars, a group of 7-18 year old rock stars shredding through classic rock hits. Also, I'm having a hard time figuring out who will be at this festival and also want to see James Murphy of LCD Soundsystem and Rob Garza of Thievery Corporation DJ a "Late-Night Rager," but that will be happening, so cool beans.
Continue after the JUMP FOR FESTS in Philadelphia, Boston, San Francisco, and NÜ York Continue reading