The consumerist appropriation of punk rock occurred early on in its history. As The Clash put it in "(White Man) In Hammersmith Palais": "The new groups are not concerned/With what there is to be learned/They got Burton suits, ha, you think it's funny/Turning rebellion into money." The website for the Afropunk Festival states, "the word AFROPUNK itself has become synonymous with open-minded, non-conforming and unconventional, placing the institution at the epicenter of urban culture inspired by alternative music." Undeniably, the Festival has a great lineup, and a strong emphasis on diversity and artists with a political message. Unfortunately, Afropunk is also a corporate-sponsored event, which relies on companies like Red Bull and Absolut Vodka to keep the price of admission free. That corporate sponsorship undermines the admirable political messages of artists like Chuck D and The Coup. It also means that the speakers are turned up to unreasonable volumes (for some reason this always, in my experience at least, is the case at corporate-sponsored concerts), making the entire Commodore Barry Park deafening. And security guards in tuxedos (whoever made that costume decision for the month of August is a real jerk) guard the entrances. These might seem like small bones to pick, but it does leave the festival with a bit to be desired, especially when (on day one at least) some of the acts sounded like imitators of Korn, and DJs, at extreme volumes inexplicably ruined songs like "Billy Jean" and "All About the Benjamins" by altering them with discordant electronic effects.
Fortunately, there was at least one group that straight-up rocked, playing a strong, high energy set of blistering punk/soul/hip-hop. The Skins are a group of mostly teenagers (and three of them are siblings) from Brooklyn. Adam and I caught up with the group's lead singer, Bayli Mckeithan after their show. Bayli led the group in a cover of Kanye West's "Black Skinhead," and introduced some of the band's songs by yelling out, "We are all artists!" and "This is dedicated to all my soldiers. Not military soldiers, per se, but just soldiers." This is definitely a young band to keep an eye on. Talking to Bayli made me feel a bit curmudgeonly for my thoughts in the previous paragraph. The whole experience has been fun and awesome for her, and the band, and it's hard to see things otherwise when watching them perform or talking to them.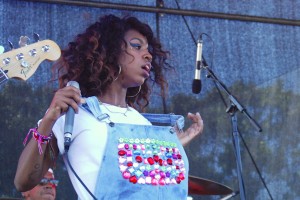 WESU: How long have you been playing together?
Bayli: Just coming up on two years actually now.
WESU: Where are you from?
Bayli: We're from Brooklyn. I live ten minutes from here. And my siblings, the bass player and the drummer, we all live together.
WESU: Did you always play music together as a family?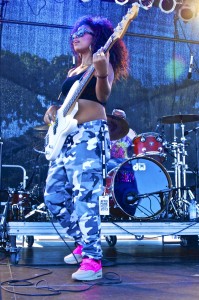 Bayli: We always jammed, and that's how the band started. We always jammed together in my basement, which is where we rehearse now. And then Daisy and Russell, we met. We always used to see each other at school, and then we met there.
WESU: What school?
Bayli: The School of Rock. It's a real thing.
WESU: Are you signed to anybody?
Bayli: Well, we're talking to labels.
WESU: Major labels?
Bayli: We're talking to major and indie labels. That will probably be happening very soon. That's what we're excited about.
WESU: Have you released anything yet?
Bayli: We released an EP when we first started– maybe a year and a half ago. We've done a lot of singles and some videos. And we're going to be releasing another EP, I think, in the coming months.
WESU: I loved your cover of "Black Skinhead." That was so cool.
WESU: Yeah, definitely ballsy. Better than the recording.
Bayli: That's so sweet. Thank you. We love Yeezus. We used to cover "Mercy" up until today. I guess we just love Kanye.
WESU: Would you say that you're a punk band, or how would you classify yourself?
Bayli: I would definitely say that we have the rock foundation. We're a rock band. But we try to incorporate all these genres that we listen to, like punk, jazz, soul, of course classic rock and hip-hop. We try to mesh all those together.
WESU: Who would you say your biggest influences are?
Bayli: I love Amy Winehouse. As a band, we love Jane's Addiction and Led Zeppelin, Sabbath. A lot of classic rock guys. We love the Yeah Yeah Yeahs. Shit like that. Vocally, I love '30s and '40s jazz singers like Nat King Cole, Sarah Vaughan. I just really like jazz singers. Soul singers, of course, like Aretha Franklin. Janis, of course.
WESU: So have you been singing your whole life?
Bayli: I only really started singing a few years ago. Like I said, we all went to music school. I started taking guitar lessons. We had these recitals, and I would see someone have a cover show of The Beatles or Bob Marley. So I started singing there maybe three or four years ago. I heard Gladys Knight's "I've Got To Use My Imagination." That inspired me to start singing.
WESU: Anyone here that you're a big fan of?
Bayli: The Heavy. They just played. We toured with them. They're the only band we ever toured with. We've done a US tour, cross country. They're awesome. Definitely Le1f. I love Le1f. He was awesome. There are a lot of great great great bands. London Souls. There are some really great bands here. I'm so lucky to be playing.
WESU: I never heard of you until today, but we loved your show.
Bayli: We're relatively new still, I guess. And I guess we're just trying to get out there. Since two years, we've come so far. Literally, we were starting in the basement. And we just came back from LA, playing for writers and producers. So I feel very lucky. It's been a really fun experience. And I know it's going to get more amazing.
WESU: Are you doing anything other than music?
Bayli: I'm an art student. I go to Pratt Institute. And I've been to art school my entire life. I still paint when I have time. Mostly, we're all into music.
WESU: Are you the oldest sibling?
Bayli: No. We have an older sibling. She's not in the band. I'm nineteen. My sister who's the bass player, Kaya just turned eighteen. My brother is fourteen years old, our drummer.
WESU: So are all of you teenagers?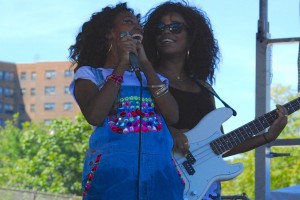 Bayli: Russell, one of our guitarists, he's twenty-one.
WESU: Do you have a Soundcloud or website?
Bayli: Our website is theskinsband.com.
WESU: You designed this yourself (Bayli is wearing overalls with beads glued on in the shape of an upside down cross on the back)?
Bayli: I did this last night. So that was fun. My mother was like, "You should put an upside down cross on the back." So that's my mom. I will not take credit. It was so fun playing here. I love it here. Awesome atmosphere. I guess all festivals are.
-Jesse Brent and Adam Wechsler