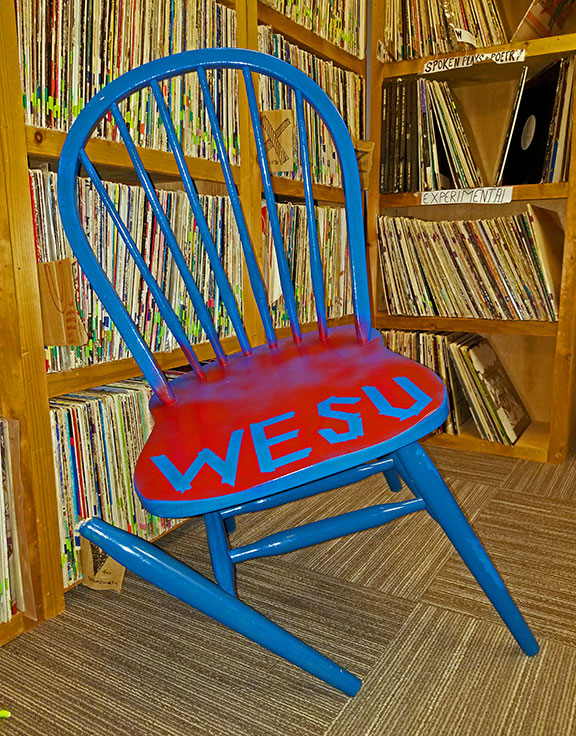 The wind is harsh, the leaves have turned, and everyone is dreaming of cozying up by the closest fire and tuning into WESU, it must be time for the the annual WESU Fall Pledge Drive.
As a community radio station, WESU offers a unique mix of talk and free form music programming that listeners are hard pressed to find elsewhere. The station depends on the community support to keep it this way. The service WESU provides is made possible by over 150 student and community volunteer broadcasters, two very part-time employees, and one full-time General Manager. The station's lean budget is funded through financial support from Wesleyan University as well as listener and community support.
Due to a failing 30 year old FM transmitter, WESU has had intermittent broadcast problems this fall. "Our old faithful transmitter has made it clear that it is ready to retire" says WESU General Manager, Ben Michael. "We've been putting too much money and time into keeping the old transmitter up and running and it's time to move on."  says Michael. "After negotiating with several vendors for the best possible deal, a transmitter purchase is imminent." This purchase will pose a significant  financial burden to the listener supported community radio station, that also relies on listener support to fund smaller items like reliable chairs.
During this season of giving, WESU needs to hear from new donors and is asking past supporters to consider increasing their contribution to help offset the cost of a new transmitter.  With that said, to sweeten the deal,  the station is excited to offer new limited edition long and short sleeve t­-shirt designs as thank you gifts for donors. In addition, all donors get a free WESU bumper sticker!
The WESU Annual Fall pledge drive is slowly building momentum but there is a long way to go! To reach the goal of paying this season's bills and making a large down payment on a new transmitter, WESU is depending on listeners to donate as soon as possible to help make the goal a reality before the end of this calendar year.
If you value WESU's offerings of  independent media that encourages listeners and broadcasters to dig deep, ask critical questions, and appreciate diversity, support The Annual Fall Pledge Drive, today!
Secure donations can be made  online at www.wesufm.org/pledge or by sending a check or money order directly to WESU Radio, 45 Broad Street, 2nd Fl, Middletown, CT 06457 ℅ pledge drive.