We had mixed feelings about Day 1 of Afropunk. Day 2 on the other hand was one of the most musically and politically stimulating days that I have been fortunate enough to experience.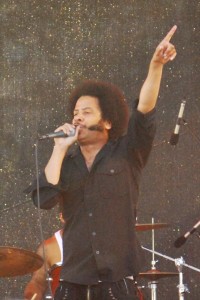 The day started off with The Coup's leader Boots Riley announcing to the audience, "We came to funk you hard. That's easy to do. Sometimes we funk you softly… The sweet angel of revolution whispering in your ear. What does that sound like? I don't know. I don't believe in angels. But if I did, it would probably sound like this…" Their set did not disappoint. One highlight was the song "5 Million Ways To Kill A C.E.O." off 2001's Party Music. Boots introduced the song as a cover of a traditional song he once heard Paul Robeson perform.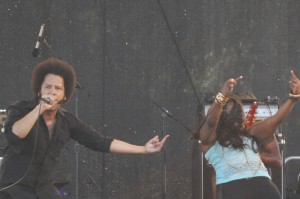 Boots then presented the group's "fiery femme fatale" Silk-E, who began a powerful soul singing showcase by saying, "We ain't gonna talk about. We just gonna do it."
The band ended their set with an "oldie but a goodie," "Fat Cats, Bigga Fish" from their second album, 1994's Genocide & Juice. The song, an outstanding example of hip-hop storytelling, follows a small time hustler, who learns that the real hustlers are corporate executives. Boots stepped back to allow the band's guitar player B'nai Rebelfront unleash a filthy solo, followed by bassist J.J. Jungle doing some literal acrobatics during his own solo.
The next performance we took in was from Death, a group from Detroit, who like fellow hometown hero Rodriguez was unfairly lost to obscurity before recent documentaries (A Band Called Death and Searching for Sugar Man respectively) brought the artists renewed interest and recognition.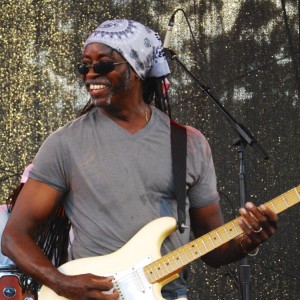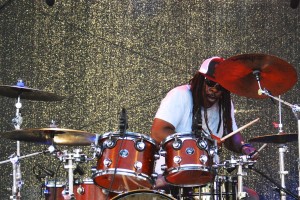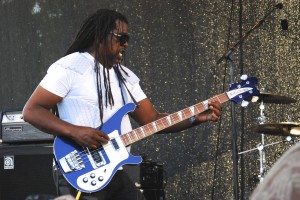 Death's unique style of protopunk was just as powerful now as it must have been in the band's brief original career from 1971-1976. They dedicated one of their songs to David Hackney (who died of lung cancer in 2000), brother to bassist Bobby and drummer Dannis, and the group's original guitar player.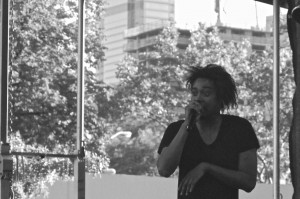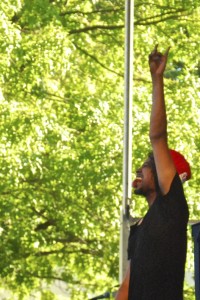 Danny Brown was one of Afropunk's biggest crowd-pleasers. He played some (presumably) new material from his upcoming Old album. He also returned to 2011's critcally-acclaimed XXX, performing "Monopoly" and "Blunt After Blunt," and leading the crowd in the unabashed ode to cunnilingus, "I Will."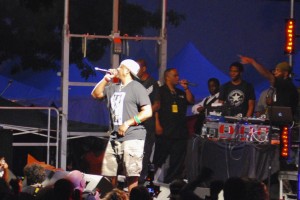 Closing out the day for us was Chuck D, who wore a KRS-One t-shirt and performed with what he called Elements of Public Enemy or Too Much Posse. Like The Coup and Death, Chuck D demonstrated an incredible amount of energy for a veteran performer. He tossed and swung the mic, throwing it up in the air and catching it like he a quarterback passing to a wide receiver.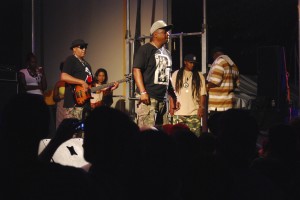 The musicians backing him up were no slouches either. He introduced drummer T-Bone Motta by asking, "Can the drummer get wicked?" That he did. Also on stage was a member of Public Enemy's legendary production crew, The Bomb Squad, Hank Shocklee (Chuck called him "King" Shocklee). Davy DMX, who worked as writer, producer, and DJ for early hip-hop acts Kurtis Blow, Lovebug Starski and Run-D.M.C., played bass. Guitarist Khari Wynn laid down a solo Jimi Hendrix-style by using his teeth.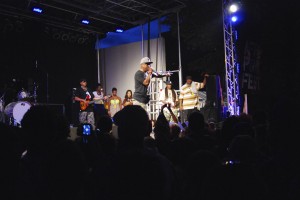 This set was about more than just the music. Chuck D soon got into the politics that Public Enemy is known for, saying that there are "more check to check, ain't making a check black people than ever… I ain't talking for long, but every word I say is gonna be a motherfucker." The group played "Black Steel In The First World" off 1988's It Takes A Nation Of Millions To Hold Us Back. Chuck D then said, "J. Edgar Hoover set out to destroy us as a people." He called out radio stations Hot 97 and Power 105 for playing "hate music," or, as he put it, "Hoover music."
Next, he addressed a subject that has been on my mind quite a bit lately. In my interview with Thoth & Lila'Angelique, we talked about how people are turning into cyborgs, constantly immersing themselves in technology, rather than connecting with other human beings. And in the recently released film, The World's End, a group of reunited high school friends battle robots in a commentary on the insidious place of technology in our society. Chuck D said that there are going to have to be "medical services for people who keep their heads at a 45 degree angle… Be smarter than your phone. Don't be a dumb motherfucker with a smart phone. Forget about Big Brother out to get you, people are signing up to help Big Brother." Then he turned to the corporate suits that control the hip-hop industry, asking, "Who said it was the home of hip hop [a reference to Hot 97's motto "Where Hip-Hop Lives"]? A bunch of motherfuckers in offices, who said they could take this shit from you. The air is the last battleground. They've been hating on the originators of this beautiful art form… Reclaim your air. Every city in this country needs to play local artists. Man up, local artists. We are rebellious with our homage to the people and black music, which unites people all over the world."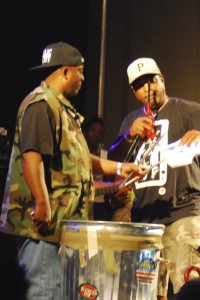 Chuck D began the most dramatic section of his performance by asking, "What did James Brown say? "Papa's got a brand new bag." I ain't James Brown, but I salute him every day, cuz I'm black and I'm proud." He then took out a bag full of magazines and newspapers, along with a barbecue lighter. First up was Rolling Stone, which he called out for not writing about real musicians. "Fuck Rolling Stone. Don't talk about real music." Next up was the New York Post. When it comes to hip-hop and black people, "bad news is the only news." They got burned, along with some other publications that Chuck D considered bad for the people.
That wasn't the end, though. Chuck went on to say, "I don't like the way we've allowed radio stations to talk bad about our mothers, our daughters, our sisters. They've disrespected the classic artists: DJ Kool Herc, Afrika Bambaata, Grandmaster Flash…" Then came one of Public Enemy's best and most well known songs, "Fight The Power," which he introduced by saying, "We went right to a Klan rally in '97 and played this song…" Next, he paid tribute to his DJ, DJ Lord, asking, "Before there was an MC, who'd we pay attention to? The DJ. DJs were gods." DJ Lord then displayed some virtuosic skills on the turntables. Concluding the show, Chuck D said, "You hold this microphone like an instrument. You don't give a microphone to a motherfucker who can't, like Rakim says, move the crowd… I don't smoke shit. I don't drink. But I smoke the fucking stage." Few in the audience could have disagreed with that statement.
-Jesse Brent and Adam Wechsler