I caught one of Yamantaka//Sonic Titan's CMJ sets this week at Fontana's on Wednesday. I then sat down with the group's two leaders Ruby Kato Attwood and Alaska B at Enid's in Greenpoint on Thursday. I won't spend too much time on an introduction since they have plenty to say in their interview, but they are definitely one of the most unique musical acts around and if you ever have a chance, you should see their live show (see the photos for visual evidence!).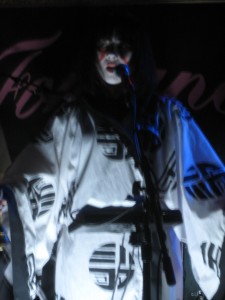 I read that your new album was inspired by Journey to the West. Is that correct?
Alaska: I would say a lot of things in the band, including on the first album, were inspired by Journey to the West.
I recently saw the musical that was based on that.
Alaska: Oh, the Monkey with Damon Albarn.
Yeah. Did you see it?
Alaska: I've seen clips of it.
Ruby: Yeah, I've seen clips and stills.
It was pretty cool. Really cool acrobatics.
One of the other things I read was that you were particularly inspired by the two characters of the Monk and the Monkey. So one of you is the Monk and the other is the Monkey?
Ruby: Yes. Alaska is the Monkey. She always wears the Monkey makeup.
Alaska: It's a stylized version of it.
Ruby: And then I'm always the Monk with the robes.
Alaska: It reflects the character where the Monkey is always action. And I'm playing the drums. And the Monk is always more about speech…
Ruby: And reflection and contemplation and non-action. They're related to the sun and the moon in the same way. The sun's this life-giving, chaotic, plasma fireball and the moon is its reflective light. But they are part of the same thing.
I was actually recently at a ceremony where my friend's father became a monk. It was really interesting.
Alaska: What school?
Korean.
Alaska: Was it Theravada or Mahayana?
I actually don't know that.
Alaska: Were they ringing bells or were they hitting gongs? That's one way to tell the difference.
I don't actually remember either of those things. It was a very simple ceremony.
Ruby: He just accepted the precepts?
Yeah. There was a lot of bowing.
Ruby: Yeah. He had to promise stuff. [Laughter]
So what about the monk lifestyle…
Ruby: I guess we approach those two characters from the position of storytelling. So rather than reflecting necessarily or not necessarily aspects of our true personality, we're interested in presenting the two opposites and how they're related through the characters on the stage. There's aspects of these two opposites of action and reflection or acts of rationality and acts of impulsivity in everybody's lives. And those poles contain existence. So we're trying to express those in a more poetic way than something clinical or didactic.
Alaska: And I wouldn't say that's the entire basis…
Ruby: No because there are other characters. It's like a mode.
Alaska: It was kind of a statement about being in America too. So in Journey to the West… I've actually been to the Grey Goose pagoda where the story starts, which was a pretty interesting experience for me years ago when I went to China. The characters go to India. And on the Silk Road they run into all the demons and so on because so many people would starve to death, get killed by avalanche, winds, you know, etc. that there's the concept of there being so many demons. And they learn to get along to go to a strange place to bring back something that brings peace to where they come from. In the same concept, where we're starting from in North America, it's in a way going back there to get further here. It's like going back home even though this is our home here, which is kind of the tongue-in-cheek irony of it all. It was also a statement about– I'm from Alberta. It's a little bit like–I hate when people say this– it's kind of like Texas in Canada. And I really hate that because I've been to Texas and it's not really true. But it's kind of true enough. So for people to foist these stereotypes that they have of people from Asia upon me, being from the most redneck place in Canada, it's ridiculous because obviously I identify more with the prairies than I do with big, sculpted mountains.
Ruby: And then, as far as it being a starting point, there are all these myths that we came to from that story or in relation to that story also. Different myths about religious figures, leaders, people who go on voyages, expeditions, and just monkeys themselves. There are so many stories about monkeys because they are this animal that's also sort of human. There are lots of different myths from all over the world about these animal-in-human characters.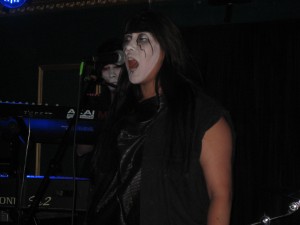 So I know that you draw from a lot of things. You have Chinese and Japanese traditional mythology and you also have North American indigenous mythology.
Alaska: Yeah. We've had a total of three native members so far. Two of the members of our band– one is Iroquois. Our former second drummer– we used to have two drummers in the band, and he was Iroquois as well. And we've had Jonas, he's a guest singer on "One." He's also Iroquois. And also our guitarist John is also part indigenous from the Southwest from the border with Mexico.
Ruby: Also Spanish. He has a very long, interesting, convoluted family tree. We're really interested in personal experiences with culture and self-definition.
Alaska: But also, for us… I'm half Chinese, but I'm also part Mormon. I'm part Swedish, part Irish. I've got a very complex background that I also draw on for inspiration. We made a statement about being racialized because all of our influences are Chinese and Japanese and all our other influences are denied. I've been to Ireland. I have family from the Southwest in potato country. They still live on farms. And if I were to say that I have all this Irish nationalist influence– Celtic music is a big thing I grew up with– people would be like, "Well, you're not Irish." And I would be like, "Yeah, but how many Irish-Americans even listen to Celtic music or know a word of Gaelic." And I grew up with Gaelic around me. So it's like, "Fine. You want to paint me with a broad brush. I'll paint myself with a broad brush." It's like, "Give me that brush." So I think other artists, in particular white American artists can draw influence from anything. They can be like, "Oh. I watched a documentary on National Geographic about Africa and now I'm going to play Afrobeat because I saw a documentary." And then for us, things that are actually deeply personal– we get told, "Oh, that's not yours." So there's a different imbalance about how people can access different cultures.
Ruby: And in terms of cultural influences, I would say that we're really influenced by certain art sub-cultures I would say almost even moreso than these ethnic references that we make. Punk music. Performance art. Experimental film. Animation. And drawing, painting. Those kinds of things that are cultural, but not necessarily bound by national identity. And that's how we work as a multi-media collective, and that's a huge part of our work as well.
Alaska: My dad was actually a progressive rock musician in the 70s, so that's where a lot of the progressive rock influence comes from. But that's something that people wouldn't necessarily see as being part of my personal influence. People hear it in our music for sure, but you wouldn't understand that that, for me, is a personal thing. I grew up with the prog records in the house.
Ruby: It's a bit of a joke.
Alaska: It's a bit of a tongue-in-cheek thing. I think somebody said once that our entry point is confusion. And I think that's probably the smartest thing that anybody's ever said because people want to box things up and instead we made the box really big and then we labeled it with a simple small label that doesn't describe the box. So, once again, the entry point is confusion.