Thanks to everyone who came to our events this month! We bipped and bopped in new ways, learned what it means to really DO-IT-yourself, and heard a hundred cell-phones ringing at the command of a punk rock legend. Here's all the fun we had:
The Stepkids // Sidewalk Dave // Featherwood Bee @ Memorial Chapel
Featherwood Bee and Sidewalk Dave rollicked in some good ol' time rock n' roll. Then The Stepkids brought us to some deep corner of the galaxy of the soul. You can find some spectacular photos on dear WESU friend and high-stakes photographer Truancy Park's Facebook. You can read a decidedly unconventional review from Wesleyan campus blog, Wesleying, here.
Thanks to the Wesleyan Concert Committee, the Student Activities and Leadership Department, and TuneIn for support with this series. TuneIn is a service you can use to listen to radio stations from around the world, including WESU, on your smartphones, tablets, and online.
Ian MacKaye @ CFA Hall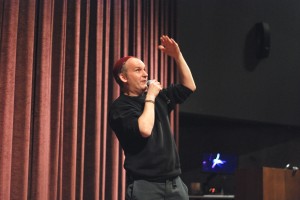 Ian Mackaye shared his sage wisdom and fiercely independent attitude to a loving crowd of students and Connecticut fans. An on-air broadcast of the talk as well as a podcast are coming soon. Click through after the jump to view a photo gallery. You can also check out the Wesleying Review here.
Stay tuned for more awesome WESU events all Spring long! Like us on Facebook and listen to WESU for updates on all these awesome radio parties! Everything WESU does is open to the public!
4/7 The Bi-Annual WESU Record Fair
4/12 Boldy James & Gifted Higgz Concert
4/30 Graeme Boone, Grateful Dead Expert Lecture