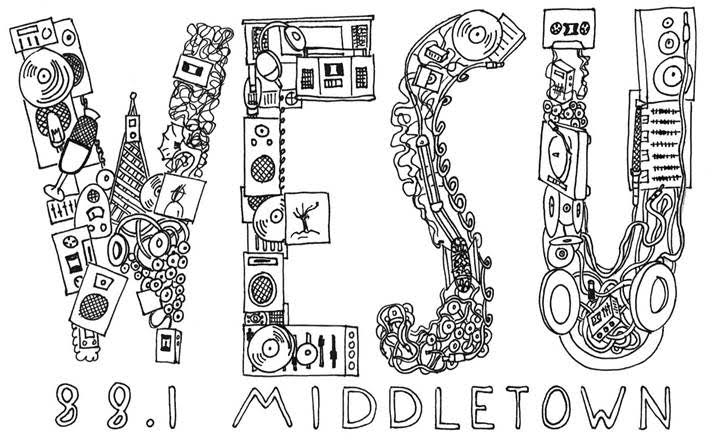 WESU is celebrating its 77th season providing alternative radio to the greater Connecticut area! WESU, one of the oldest college radio stations in the country, kicked off its new spring season this past week with exciting new and old shows, hosted and produced by over 100 dedicated community members and Wesleyan University students. This season, we are thrilled to host exciting events for the community, including the annual Spring Record Fair on the Wesleyan University campus in April!
We are also celebrating many exciting birthdays this year: "Caffe Italia," which plays Italian music, news, and culture, is turning 10 this year, airing every Saturday from 7am-8am. Also, "The Vault," featuring techno music with DJ Anton Banks, is turning 20 this year and is airing every 1st, 3rd, and 5th Wednesday night from 9:30-11pm. WESU is also featuring exciting talk and public affair shows for its spring season, welcoming new programming like "All About" with Isabel and Emily, which features a new guest every week discussing something they are passionate about, and saying goodbye to long-running shows like "Romancipation" with Dr. Love and DJ Smooth, who give advice on dating and love. We currently have more homemade shows than we have had in years, and they are getting more and more national recognition; WESU's "For Women Over 40" with Cyma Shapiro, a contemporary lifestyle talk show, has recently been picked up for syndication across the country by Pacifica!
The spring season can be heard over the airwaves at 88.1FM or streamed online at https://wesufm.org/. You can also keep up to date on the station and our shows via Facebook (@WESUMiddletown) and Twitter (@WESUtunein). The entire WESU spring schedule can also be found online on our website and a print program guide will be distributed at select locations around the area and mailed to station donors in the coming weeks.
Thanks for listening and keeping the WESU community alive!