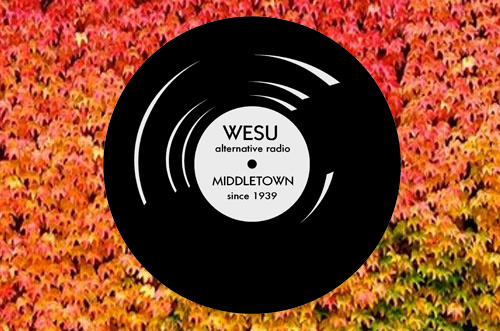 The fall program season at WESU is now in full effect! click here for the complete schedule. As we wrap up our 75th anniversary calendar year, our fall season features programming from over 150 student and community volunteers, who work together to ensure WESU broadcasts 24 hrs per day.
Nestled alongside some of our longstanding programs, like the Moondog Matinee (Sat AM Oldies), The Gospel Express (Sunday AM Gospel), The Warehouse (Weds PM Dance music), and Avantia Tutta (Sat PM Italian,  are shows by new student and community volunteer DJs. Each weekday, WESU splits it's program between public affairs (by day) and free form music programming (at night and on the weekends). Each day WESU offers NPR, Pacifica, and a host of local and independent productions. Locally produced public affairs programs run the gamut from highly produced shows with full time paid production staff to more bare bones "public access" style broadcasts.  Highlights of locally produced public affairs programs include Anarchy on Air – a weekly look at activism locally and globally, Mind Matters with Dr Helen Evrard – which explores mental illness, Reasonably Catholic with Maria Johnson – exploring the progressive side of Catholicism, and The Bauer Hour – offering a local perspective on global issues. Another locally produced public affairs show you can hear on Wednesays at 4:30 is Conversations on Health Care which features leading national and international guests at the helm of healthcare reform.
WESU's Free Form music programming features everything from 3 varieties of gospel music, to vintage Rock and Roll,  Doo Wop, & RnB to Electronic dance music, hip hop, world music, local musicians, and the indie pop and rock you'd expect to hear at a college radio station.
This season WESU continues to offer two 75th anniversary themed programs including, "75 years of…" on Wednesday nights at at Midnight and "Welcome back" on Friday afternoons at 1:00 pm. 75 years of is a weekly program with monthly themes exploring audio content that would otherwise not be heard on air, were it not for noncommercial stations like WESU.  This month's theme is underground dance music and is curated by DJ Lokash. Welcome back features conversations with folks who have passed through the WESU studios over the years reflecting on their experience at WESU and how it might have helped them along the way.
Stay tuned for special 75th anniversary events in addition to our regular happenings like our Fall Record Fair on October 26th!